Sometimes musical kinship between two vastly different composers isn't readily apparent until you start practicing for a concert that you've programmed them on.  One wouldn't naturally find similarities between the madcap William Albright and Frederic Chopin, considering that a good 150 years and several continents lie between them.  But one of the perks of being a programmer is discovering new connections between composers beyond the surface one that made you pick them out in the first place.
See, we're sandwiching the Night Music program on Saturday with 4 nocturnal piano pieces; starting with 2 of my favorite Chopin nocturnes, and then ending with Albright's Sleepwalker's Shuffle and Nightmare Fantasy Rag.  (My diet mostly consists of either cereal or bread, so my functioning as the other parts of a sandwich makes complete sense).
And in learning with these 4 pieces, I found that 99% of the time I sounded like butt was because I wasn't being steady enough with my left hand. For in both nocturnes and rags, the left hand functions as the rhythm, while the right hand either flows or "swings" around it.  A texture that represents vocal melody and accompaniment, the music works better the more unflappable and imperceptible the LH is, as its structure and pulse enables the RH to be more expressive.
The tastefulness of this vocal line is constantly being measured and reassesed.  Both sets have such wonderful feels, evocative melodies, and gestures, that its so tempting to be freewheeling and rhapsodic.  But too much and you'll make everyone seasick, or too little and they will think you have no soul.  The trickiness of having the timing be "just right" is equally difficult in both.  Which got me thinking – was the nocturne considered the slow rag of its day?  Well, obviously, it was not music that had a dance tradition attached to it, and in feel it is languid and ethereal, not the earthy raunch of the piano rag.  I think some dumb thoughts when I practice.  Really, the rag is more analagous to the Mazurka, being derived from the march.  I guess I was just stretching out how the nocturne was just as popular as ragtime in its heyday, and how the rag stands closer to classical traditions in that it was precomposed and sold as sheet music.
Anyway.  Since you probably are not as familiar with the music of William Albright, I thought I might introduce a few things, as he's one of the most influential and creative voices of late 20th century.  One thing I love about his music is its wild physicality, how uninhibited, rousing, and large-hearted.  Practicing his Dream Rags was probably the most fun I've had in a long time, partly because I found myself bopping or head-banging along to the music.  And also because Albright's Rags are like Rags on steroids.  I mean, the largest piece is called the Nightmare Fantasy Rag, subtitled "Night on Rag Mountain", which 1. that's hilarious, and 2. its gotta be pretty epic.  He includes these great tempo characterizations for his sections, such as "Hard and Driving", "lightly but boldly", "floating but swinging", and my favorite "Coda: Largo, Cruel Rock Tempo".
Like Mussorgsky, Albright shared a fate of premature death through alcoholism.  He was probably one of the most beloved composers teaching at the University of Michigan, and when he died in 1998, the entire community as well as the composition world was devastated.  The multitude of remembrances penned by adoring students are among the most earnest and fervent eulogies written.  One in particular stuck out to me for its thoughtfulness and beauty, and because it was written by Evan Chambers, one of the composition professors I got to know at Michigan.  It is worth reading. Click here for the article.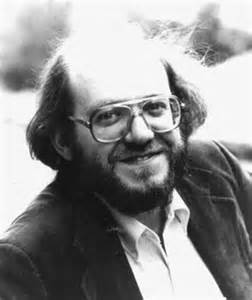 William Albright and William Bolcom were dear friends, and would trade rags back and forth to each other, exchanging compositions that would pay honest homage to the original ragtime style (In fact, Albright's Nightmare Fantasy Rag is dedicated to Bolcom).  Eventually they brought back a revival of ragtime with the spirit, vitality, and integrity of their compositions.  Ragtime was only a portion of Albright's compositional personality, which was dark and rich but also full of fun, humor, and searching.  What other composer would think to write rags for the organ?  But it is the sort of mind that brings disparate forces together that gives us something unique and wonderful for the ages.
And here are some lovely remembrances by William Bolcom, Fred Lerdahl, former student Carter Pann, Leslie Bassett, as well as many others. Click here to read them.
These pieces will be performed along with Schoenberg's fervently beautiful Verklärte Nacht (Transfigured Night) on our New Year's Eve Late Night Sandwich concert on Saturday, Dec.31.  Cocktails start at 6pm, concert at  7pm, and dining and dancing after!  Click here for more information and to make reservations